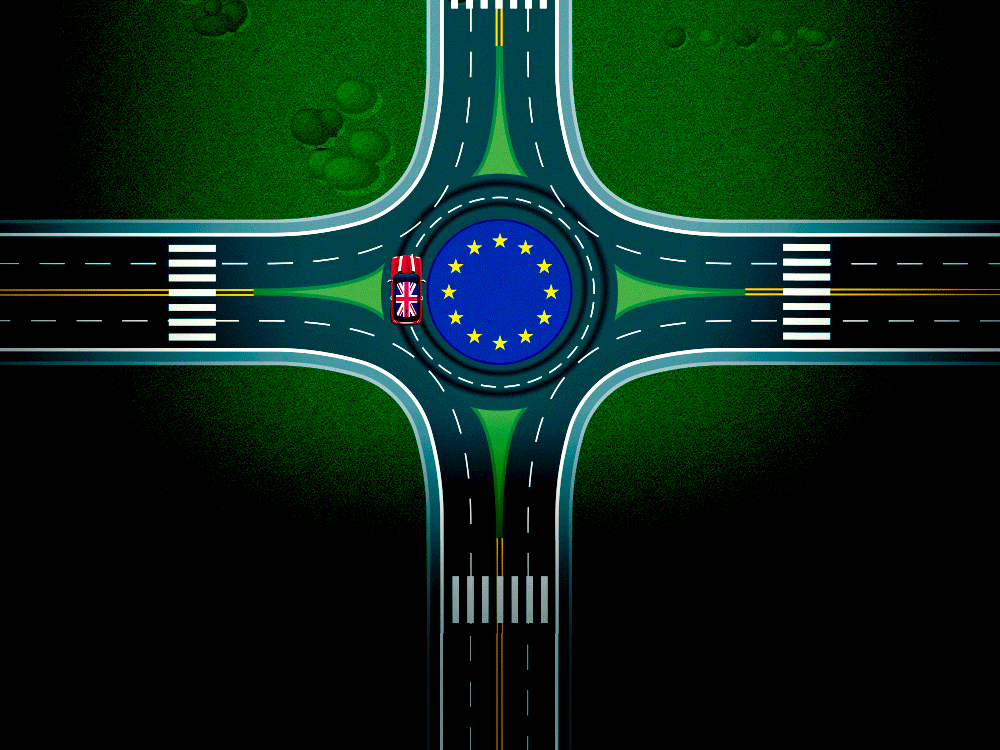 Labour Vows Confidence Vote as May Faces Defeat Over Brexit (2)
Vote is coming soon, 'don't worry about that," Corbyn says
May issues last-ditch appeal ahead of Tuesday's Commons vote
Opposition Labour leader Jeremy Corbyn gave his clearest indication yet that his party is ready to call a no-confidence ballot within days of Theresa May losing a U.K. parliamentary vote on her Brexit deal.
Lawmakers are scheduled to vote Tuesday on the agreement May reached with the European Union, and the prime minister appears no closer to getting the backing she needs than she was in December, when the vote was dramatically pulled after it became clear the government was heading for a defeat.
Speaking on the BBC's "Andrew Marr Show" on Sunday, Corbyn said a confidence vote would be brought "at a time of our choosing, but it is going to be soon, don't worry about that."
As May made a last-ditch appeal to members of Parliament, the Guardian reported the EU is expecting a request from London to extend the March 29 deadline for leaving the bloc. A probable first step would be a "technical" extension until July to allow the prime minister to revise and ratify the Brexit deal, the newspaper said, citing EU sources it didn't identify.
Pound, Homes
May, in a Sunday Express op-ed, said opponents of her deal risk letting down the majority that voted to leave the EU in 2016.
"Doing so would be a catastrophic and unforgivable breach of trust in our democracy," May wrote. "My message to Parliament this weekend is simple: it is time to forget the games and do what is right for our country."
A defeat would leave Britain on course to leave the EU with no new trading arrangements in place. According to Bank of England analysts, such a chaotic split could hammer the pound and house prices and plunge Britain into a recession worse than the financial crisis a decade ago.
Corbyn Gambit
Corbyn is seeking to topple the government by forcing a general election. Under British electoral law, May's Conservatives would have two weeks following a lost confidence vote to form a new government. If they fail, an election would be called.
The Labour leader faces a major hurdle: His chances of winning a confidence vote are slim, as he'd have to gain the support of both Tory and Northern Irish lawmakers, who fear a Labour takeover of government. If a confidence vote failed, he'd be under pressure to back a second Brexit referendum, risking a backlash from the many Labour supporters who voted to leave the EU.
Corbyn said he'd prefer to see a negotiated deal than a second referendum. Labour says it wants a full, permanent customs union with the EU, something that would appall many pro-Brexit Tories, though senior ministers are now said to be urging May to ask Corbyn for help in the hope of agreeing on a joint plan.
Read More: What You Need to Know as Brexit Deadline Nears
A no-deal Brexit would be "catastrophic" for industry and trade, Corbyn told the BBC. "We will do everything we can to prevent a no-deal exit."
The Sunday Times reported that some lawmakers are planning to seize control of the legislative agenda from the government in an act that would allow Parliament to extend the Brexit deadline or even overturn the decision to leave the EU.
A senior government official on Sunday described the plan as extremely concerning, since if it succeeds lawmakers would gain control over not just Brexit legislation but all legislation.
In a warning to Conservative rebels ahead of the vote, Brexit Secretary Stephen Barclay said that Brexiteers seeking "ideological purity" are in danger of seeing Britain not leave the EU at all. But asked about a Brexit Plan B, Barclay hinted that May is not ready to ditch her plan if it's defeated, saying he "strongly suspects" lawmakers will end up voting for "something along the lines" of the current deal.
EU Waiting
The EU is waiting to see the outcome of Tuesday's vote — and the margin of the expected defeat — before considering its response, officials said, with some predicting that May will have to delay Brexit.
A margin of defeat exceeding about 60 lawmakers would probably mean the agreement is close to death and negotiations are in uncharted waters, several EU officials said. A narrower defeat and the bloc may look at fresh ways of making the agreement more palatable to get it across the line in Parliament.
The EU is expected to publish a letter on Monday in which the bloc will reiterate that the so-called Irish backstop arrangement, if it is triggered, will only be temporary. The contents are unlikely to appease Brexiteers who fear Britain will end up being tied to EU trade rules indefinitely.(Updates with report that EU expects extension request in fourth paragraph.)
–With assistance from Ian Wishart.
To contact the reporter on this story:
Andrew Atkinson in London at [email protected]
To contact the editors responsible for this story:
Fergal O'Brien at [email protected]
Steve Geimann
Recommended Stories
BN
01/12
Ministers Tell May to Ask Corbyn for Help When Brexit Deal Dies
BN
01/12
Brexit Vote, Pompeo Meets Mideast Leaders: Week Ahead Jan. 14-19
BI
01/11
Financials: U.K. Banks' Valuations May Get Help From Brexit Deal
BN
01/12
War-Gaming the Pound on Brexit Vote Suggests More Wild Rides
BN
01/12
U.K. Traffic Jams, China's Secret Kids, Nurdles: Weekend Reads
BBO
01/12
Brexit Britain's 'Last Hope' Bows to Reality: Therese Raphael
People
Theresa May (United Kingdom of Great Britain and Northern Ireland)
Jeremy Bernard Corbyn (United Kingdom of Great Britain and Northern Ireland)
Hon Stephen Paul Barclay "Steve" (United Kingdom of Great Britain and Northern Ireland)
TopicsMore
BUSINESS
Business News
EUROPE
Europe
UK
United Kingdom
UKECO
United Kingdom Economy
BIZNEWS
Bus, Eco, Govt News
BPOLITICS
Bloomberg Politics
British Prime Minister Theresa May called off a fateful House of Commons vote on her Brexit plan on Dec. 10, just a day before it was scheduled to proceed. In doing so, May saved herself from an almost inevitable — by her own admission — defeat. Indeed, the prime minister acknowledged that the so-called Irish backstop, an arrangement to keep the United Kingdom in the European Union's customs union until the two sides can find a better solution to keep the Irish border open, was so controversial that lawmakers would probably have rejected the deal. As a result, May said she would hold emergency talks with EU governments and institutions to obtain reassurances that the United Kingdom will not be trapped in the backstop indefinitely. May did not announce a new date for the vote in Parliament, though it could occur next month.
In recent days, it has become clear that a large number of lawmakers, including dozens from May's own Conservative Party, would vote against the deal. May will now try to save the deal by taking her case to the European Council on Dec. 13-14, when she will ask EU governments to make concessions on the Irish backstop. The prime minister said she would look for ways to "empower the House of Commons" on decisions concerning the Irish border plan and "ensure that the backstop cannot be in place indefinitely." Under the current deal, the United Kingdom cannot leave the backstop unilaterally.
But May faces challenges at home and abroad. Her political situation is so fragile that she could face a leadership challenge from fellow Tories, who could try to replace her with another prime minister. Another lurking threat is the main opposition Labour Party, which could submit a confidence motion. If May were to lose such a vote, the Commons would have two weeks to appoint a new prime minister or an early election would occur. To complicate matters further, the Democratic Unionist Party (a party from Northern Ireland that supports May's government in Parliament) has said it does not want the Irish backstop to be renegotiated but scrapped entirely. Given such confusion, calls to end the Brexit process and even to hold another referendum will only increase in the coming days.
And the bloc itself might not provide May with much succor, because most EU governments have said the present Brexit deal is nonnegotiable. While EU leaders could agree to make clarifications or addendums, they are unlikely to completely renegotiate a document that London signed less than a month ago. After all, the union sees the backstop as an insurance policy to ensure that the border between Northern Ireland and the Republic of Ireland will remain open, no matter what happens with Brexit. Indeed, Donald Tusk, the president of the European Council, confirmed that the European Union would not renegotiate the deal in the wake of May's announcement, although he did say EU governments would discuss what they could do "to facilitate U.K. ratification."
The United Kingdom is scheduled to leave the European Union on March 29, which means London has little time to introduce modifications to the Brexit deal and schedule a new vote in the Commons. In a game of possible brinkmanship, May might calculate the utility in delaying the Commons vote until the last possible minute in order to force members of Parliament to accept the deal on offer, lest the United Kingdom crash out of Europe with no plan in place.
Here, however, the European Court of Justice has added another variable to the mix. Not long before May's announcement, the court ruled that the British government could unilaterally withdraw its request to leave the bloc, meaning many lawmakers will still reject May's deal in the hopes that a negative vote will force the government to abort Brexit in the face of a no-deal scenario.
By kicking the can down the road, May has sought to limit the political damage a negative vote would have caused her government. But while this may buy her some time, it will neither foster unity in a Commons that is deeply divided over Brexit nor, in all likelihood, persuade the European Union to introduce deep reforms to the exit agreement.
BNP Chairman Lemierre Says U.K. Is Bigger Turmoil Than Italy
By Steven Arons and Nicholas Comfort(Bloomberg) —
"This is what I would mention as the turmoil, more than Italy, it's Brexit," BNP Chairman Jean Lemierre says
"I don't know, we don't know, I don't think anybody knows, the British don't know," Lemierre says
There will be regulatory solutions for a hard Brexit: Lemierre
"The risks we have, be it now the uncertainty around Brexit, be it the debt issue in Italy, requires that you are fully aware of the positions that you have in your book:"
"You have to actually prepare the organization for the worst, and that is a hard Brexit:"
Europe needs to unify to be competitive in banking: Sewing
Zielke says banks "very well" prepared for hard Brexit, more worried about impact on clients
BNP FP Equity
Graphic Dashboard»
DBK GR Equity
Graphic Dashboard»
Related tickers: